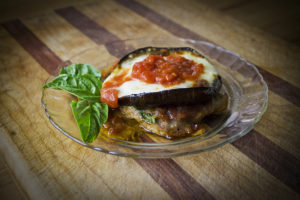 I'm not great at math so I may need your help.
I promised 10 dishes from this recipe. I think I short-changed you. After my video proclamation I recalculated and I think there are 16 permutations–16 dishes, probably even more. Wow, lucky you!
Here's the calculation:
You can use one of 4 meats. You can use one of 2 herbs. You can use one of 2 cheeses. 4X2X2=16. Right? Actually, there are probably more. For example mix mozzarella and fontina and that's recipe #17. Leave out the prosciutto and that's recipe #18. So on and so forth…
Enough. You do the math.Here's the recipe.
My current favorites are the Scallopine alla Sorrentina (veal, prosciutto, roasted eggplant, basil, fresh mozzarella) and the Scallopine alla Bolognese (veal, prosciutto, fresh sage, fontina). The Sorrentina with the eggplant probably doesn't need any contorni (sides)–the Bolognese without the eggplant may. Roasted potatoes and Swiss Chard or escarole sauteed in EVOO with garlic would be nice.
The cooking directions are exactly the same for all of the recipe permutations. You saute the meat and make the sauce in the same pan. Then you bake the scallopine in the oven with the pan sauce. Only the ingredients and combinations you choose may vary not the sauce nor the cooking methods.
This reciped serves 4. If you have scallopine the size I used in the video this recipe you may want to serve 2 as a portion.
[amd-recipeseo-recipe:28]