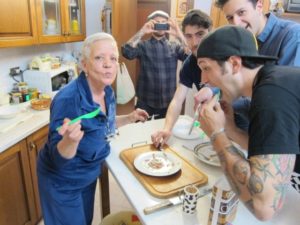 The last time I was in Italy I hooked up with my friend Luca and the crew from his video company, HB Productions. We spent days together shopping and shooting episodes of me cooking in my apartment near the Spanish Steps.
Here's the first of those HB Production episodes just in time as early spring vegetables hit the farmers market.
I shopped every day in Campo dei Fiori, the huge open air market in the historical center of Rome. I was lucky to meet Alessandro who had a produce stand there. He was my guide to the spring vegetables he had to offer.
This day he had wild chicory, cicoria, he foraged early that morning in the hills near his home outside of Rome. He sold me the chicory with a condition. "Cook it with olive oil and lots of garlic, that's all." "And chili pepper," I said. Alessandro agreed and added "but no lemon, no lemon." Boy, these Italians are strict but that was my plan anyway.
What a wonderful Slow Food moment, scoring locally foraged cicoria to cook in my Rome apartment a few blocks away from the market! Watch me use a versatile, simple method to respectfully coax maximum flavor from this humble wild green. Here in the U.S. curly endive is the closest to the wild chicory I cooked in Rome.
You may have seen some of the Rome footage in this Hungry Village production. Get a peek of Luca and his aunt Giulia, the best cook in the family, who joined me in the kitchen for a couple of episodes.
I hope to have the other Rome episodes ready to post soon. Stay tuned but in the meantime here's my saltimbocca recipe.
So You Want To Be An American? is the music in the episode. I love the tune. Here's hip Neapolitan crooner Renato Carosone's 1958 rendition of his Tu Vuo Fa L'Americano.
Keep on cooking. Buon appetito!

Cooking Foraged Chicory in Roma
A simple chicory preparation that you can use for other leafy greens too.
Ingredients
1 pound chicory (curly endive)
3 tablespoons extra virgin olive oil
3 cloves of garlic, smashed
pinch of chili flake
sea salt to taste
Instructions
Bring about 4 cups of water to a boil in a pot.
Add the chicory and blanch for a minute or two.
Heat the oil in a sauté pan over medium heat. Add the garlic and chili flakes to the pan and cook until the garlic just begins to take on some color.
Drain the chicory and add it to the sauté pan. Add sea salt to taste.
Stir well to dress the chicory with the oil.
Serve immediately.