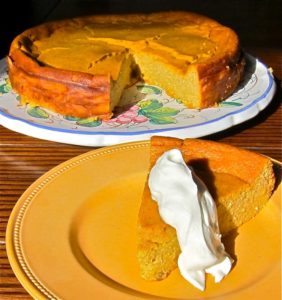 Want a light dessert for your holiday table?
I love this ricotta cheesecake with pumpkin as an end to a fall meal. It's a nice change from the heavier New York cheesecake.
Pumpkin ricotta cheesecake is easy to make. It doesn't have a pastry crust so you can have it in the oven in 10 minutes and out in 90.
I'm not a purist so I don't care if the cheesecake cracks on top. Looks rustic, right? Ask Martha Stewart if you want to get rid of the cracks.
Add a dollop of whipped cream and you have a wonderful end to a wonderful holiday meal.
Creamy, airy, rich pumpkin flavor with cinnamon, ginger and nutmeg lingering in the background. The nutty crust that forms around the edge is my favorite bite. Make this one of your fall favorites.
The cheesecake is even better if you make it the day before so it has a chance to set-up nicely in the refrigerator. One less thing to worry about on the big day. Just bring it back to room temperature before serving.
Thanksgiving is coming. Be sure to subscribe so you don't miss Thursday's episode, a quick spinach & prosciutto stuffed boneless turkey breast.
Then watch me make roasted garlic & olive oil mashed potatoes.
Make all 3 of these recipes and you have a fantastic Thanksgiving dinner for your guests to enjoy without a lot of sweat & tears.
Happy Thanksgiving! Buon appetito!

Pumpkin Ricotta Cheesecake
Ingredients
3 cups whole-milk ricotta
1 cup plus mascarpone
½ cup sugar
⅓ cup unbleached flour
5 large eggs
½ teaspoon sea salt, divided
1 cup canned pure pumpkin purée
¼ cup (packed) dark brown sugar
¼ cup heavy cream
1 teaspoon ground cinnamon
½ teaspoon ground ginger
¼ teaspoon freshly grated nutmeg
Instructions
Pre-heat oven to 350 degrees.
Butter and flour a 9-inch spring form baking pan and set the pan aside.
In a mixer beat eggs, white sugar, and ½ teaspoon sea salt at high speed until foamy and sugar is fully dissolved.
Add the ricotta, mascarpone and flour to the bowl and mix well until the mixture is fluffy.
Scrape out the ricotta into a large bowl.
Put the pumpkin, brown sugar, cream, ¼ teaspoon sea salt and spices in the mixer bowl and on medium speed mix until smooth.
Add the heavy cream and on low speed incorporate it into the pumpkin mixture.
Add the pumpkin mixture to the bowl with the ricotta and mix well until the pumpkin is fully incorporated into the ricotta.
Pour the mixture into the spring pan. Tap the pan to remove any air bubbles and smooth the top with a spatula.
Bake until the sides are set and lightly golden but the center is still slightly jiggly, about 90 minutes.
Set the cake on a wire rack and let it cool completely. Remove the cake from the spring pan and place it on a serving dish.
Serve at room temperature.