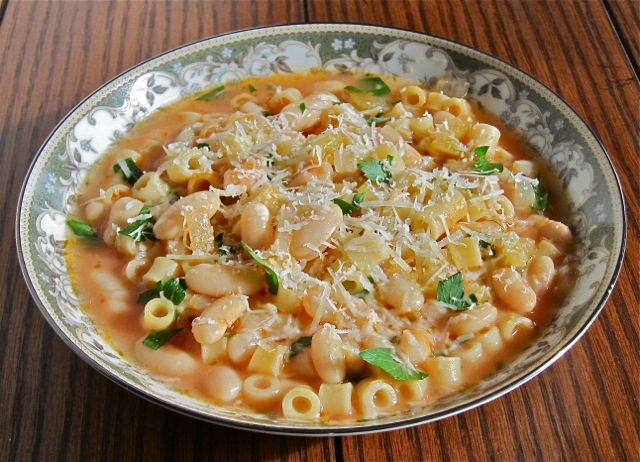 Pasta and beans was a staple in my childhood Jersey home. My mom made this soup often and we all loved it. A fan asked for the recipe.
Pasta and beans is a healthy and inexpensive peasant dish. You can have this one-pot meal that packs lots of flavor and goodness on your table in less than an hour. My version is from Campania and we call it pasta fazool in Neapolitan-American slang.
I fondly remember my last visit to Casserta Vecchia, a medieval village high in the hills overlooking the Bay of Naples. As we took in the view, the winds picked up. A dark storm was sweeping up from the bay.
We ducked into an ancient inn to have lunch as the blustery, fast-moving storm passed by. I was warmed by a bowl of pasta and beans in a terra cotta bowl, followed by grilled sausage, both cooked in a huge open hearth in the dining room with old stone walls and hand-hewn wooden beams overhead.
Pasta e fagioli is made all over Italia and varies from region to region. One big difference is that mine has no meat. Up north they usually add pancetta to the aromatics as the base of the soup. Some people like to add tomato puree. Some people don't add tomato, they like a white pasta fazool.
Mine has a light pink hue. I use a little tomato puree. Make it any way you like it, just don't make it the way they do at Olive Garden.
The creamy beans and pasta are bathed in a savory light broth enhanced by the sharpness of the pecorino and the mellow olive oil. Pasta fazool will warm you and fill you up all winter long.

Pasta e Fagioli (Pasta Fazool/Pasta & Beans)
Ingredients
½ onion
2 stalks celery
2 cloves garlic
1 bay leaf
3 tablespoons EVOO
½ cup tomato puree
3 cups dried cannellini beans, soaked overnight or two 15 oz. cans
8 cups water
½ pound ditalini or another short-cut pasta
1 teaspoon dried oregano
sea salt and freshly ground black pepper to taste
3 tablespoons fresh Italian parsley, roughly chopped
grated pecorino
Instructions
If you are using dried beans soak about 1¼ cups overnight or for at least 12 hours. They will expand and should yield about 3 cups of soaked beans for the soup.
Roughly chop the onion, celery and garlic.
Put the EVOO, onions and celery in a large enameled pot.
Over medium heat, sauté the onions and celery until translucent, about 5 minutes. (You do not want them to pick up any color.)
Add the garlic and bay leaf and sauté for another minute.
Add the cannellini beans and mix well.
Add the water and tomato puree to the pot. Stir well.
Put the cover on the pan and simmer over medium-low heat stirring occasionally, until the beans are tender and the soup thickens. (If you are using canned beans that should take about about 20-30 minutes. If you are using dried beans soaked over night that could take 60 minutes or so. You want the beans to be tender but not mushy.)
Add salt and black pepper to taste.
Add the pasta and cook until the pasta is al dente, about 8-10 minutes more.
Shut off the heat and add the parsley. Mix well.
Serve in bowls immediately with a sprinkle of pecorino and a drizzle of EVOO.
Serves 6.
Buon appetito!