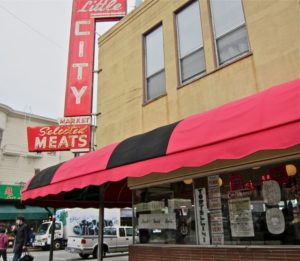 I was excited when I walked into North Beach's Little City Meats this morning.
The Christmas sausage stuffed with pork, fennel, imported provolone and basil was in. Run, don't walk. Get some before they're all gone. I absolutely love these holiday sausages and can't wait for them to appear this time of year.
Father and son Ron and Mike Spinelli at Little City have been my butchers for over 2 decades. They have fantastic meats and just as importantly, they both have hard to find Old-World meat cutting skills.
Want cutlets? They pound out lovely, thin scallopine. Need braciole or a butterflied pork roast. No worries. They do it all.
Little City is the place to go if you want Italian pork sausage. All year round I cook up their mild Sicilian sausage with fennel and their spicy hot Calabrese sausage.
In case you're in the mood, here's my recipe for a one-pan sausage and peppers.
Recently Little City was a Chronicle pick for one of the 5 best sausages in the Bay Area.
Ron and Mike are getting too famous. Bold Italic just posted Joseph Schell's piece about making sausage at Little City.
You just have to try this stuff.
Buon appetito!