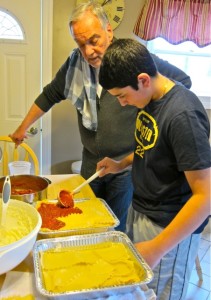 Some say that the most important meal this season is the Christmas Eve fish dinner. I'm doing the Neapolitan-inspired Feast of Seven Fishes, La Festa dei Sette Pesci.
But you gotta eat after everyone is done opening all their presents Christmas day, right? When I'm back east with family for Christmas, we cook up a fantastic four-course dinner.
3 generations will cook together and our Italian-American dinner will include some dishes that my family has made since they first immigrated to America over a hundred years ago.
We gather around the table at about 2 in the afternoon. The leisurely meal will last until early evening.
Create your own Christmas feast. We're still working on our final menu but here are some of the dishes that are on our list.
Antipasto (before the meal)
The antipasto is a preview of the meal to come. It's the icebreaker as your guests settle in at the table. It starts the conversation and tantalizes your taste buds to let you know of the culinary delights to come.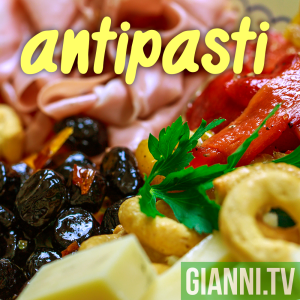 A platter with a selection of Italian salumi (cured meats) and cheeses is a must. Watch me put together a beautiful antipasti platter in this short video.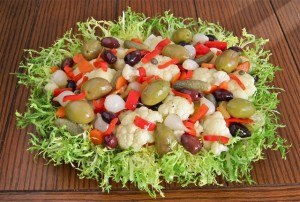 I may pair the platter with a traditional Neapolitan Christmas salad, insalata di rinforza.
If we don't go the platter-salad route I know my family will want some artichokes to start the our Christmas meal.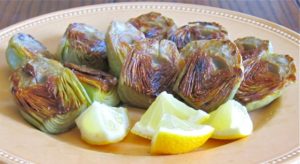 These crispy baby artichokes are always a favorite.
Or make one Roman-style stuffed artichoke for each guest.
Primo  Piatto (First Course)
A fancy pasta is our usual choice. We'll probably make a lasagna. Here are 2 to choose from.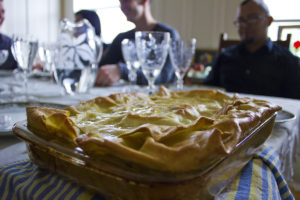 The lasagna al forno is a bit more complicated but you can assemble it the day before and bake it Christmas day. It's incredible and well worth the effort.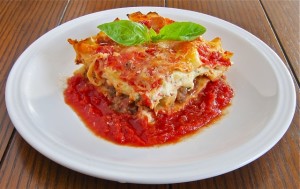 This lasagna is a quick version that you can get in the oven in less than 30 minutes.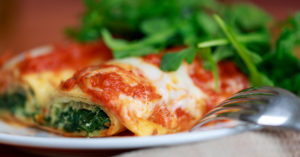 And I know there will be some votes for one of my Mom's spinach & ricotta cannelloni in a simple tomato sauce.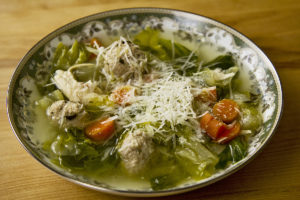 For a lighter first course try my delicious "Italian Wedding Soup" with chicken, escarole & tiny veal meatballs. It's a real crowd pleaser.
Secondo Piatto (Main Course)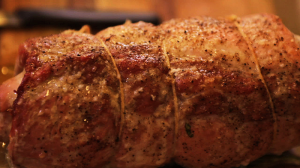 My choice is my porchetta roast with onions caramelized with balsamic vinegar and rosemary roasted potatoes on the side.
This was the episode that started the "Porchetta War" with a bunch of Italians. If you have time, check out my video on how I beat the Italians at their own game.
If you want to combine these 2 versions of porchetta just ask you butcher for a skin-on pork belly and wrap that around the loin roast before you tie it up and roast it in the oven.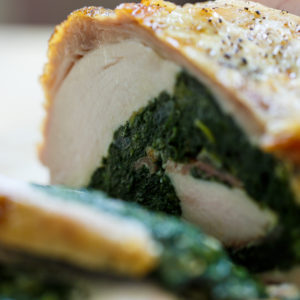 Or if we don't do pork, my family hasn't had my turkey breast stuffed with spinach and prosciutto with a quick pan gravy. Serve it with my garlic mashed potatoes for an easy second course.
Dolci (Dessert)
And to end the meal, maybe just some fruit and roasted chestnuts.
Or try these dolci (desserts) that you can make the day before for a bigger end to you meal.
Tiramisu is really not that hard to make. After you make the mascarpone filling and the espresso-rum dip for the ladyfingers it's a snap to assemble.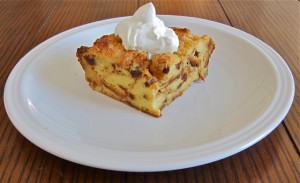 This time of the year most Italian and Italian-American households have panettone in the house. This sweet bread studded with raisins and candied citrus makes a fantastic panettone bread pudding. It's ready in no time and even better if you make it the day before.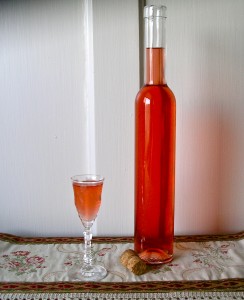 A Finishing Touch
Some espresso and maybe one of my homemade liqueurs and you can call it a wrap. Make my liquore di fragole (strawberry liqueur) with its beautiful Christmas hue or limoncello a few days in advance and you're good to go.
A little Christmas gift for you at the end of the limoncello video, a suggestion for an easy sweet end to your meal
Buon Natale. Merry Christmas. Happy Holidays. Buon Appetito!