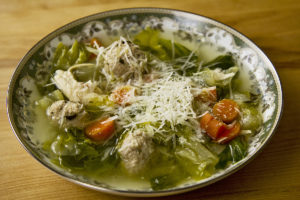 Also known as Italian wedding soup, chicken and escarole soup is an Italian-American classic. The addition of the little savory veal meatballs make this soup special. It's a staple at Italian wedding receptions and hence the moniker Italian Wedding Soup.
But you don't have to wait for a wedding to enjoy this bowl of goodness. Monday was soup night when I was growing up and my mother made this soup often. My family continues the tradition to this day. I like to dunk crusty Italian bread in the broth. My father liked to break chunks of day-old bread into his bowl to soak up the broth.
The soup I make here is a rustic version. You can make it more refined by cutting the vegetables into a smaller dice and make the meatballs even smaller. I always saute the vegetables in EVOO before adding the water. This method intensifies the flavor they add to the soup.
I'm not a dark meat fan but if you are use chicken thighs or legs in addition to or in place of the breasts. Be sure to skim off all the fat from the chicken and meatballs when the soup is done cooking.
Finish each bowl of soup with a good finishing extra virgin olive oil and a sprinkle of grated pecorino, parmigiano or grana padano before serving.
So make Italian Wedding Soup your way. It's quick and easy. You can make it in less than an hour.
[amd-recipeseo-recipe:88]