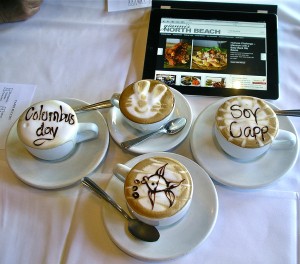 What a day–the fog finally burned off as we headed down the hill to North Beach's Caffe Puccini to watch the 143rd Italian Heritage Parade–the oldest in the country. Hundreds were lining the parade route already. The tables set up in the street all over the Village were starting to fill up.
We were early. We needed espresso before the party started. Here's what they gave us. Wasn't that long ago at Caffe Puccini when a customer asked the barista Antonello for a decaf cappuccino with skim milk he'd scoff "Whaddaya think this is–a pharmacy?" They only had regular coffee and whole milk back then. Not any more–they make it all.
Parade Sunday I always have this table right inside the windows at Caffe Puccini. San Francisco and New York City friends and fans joined my table–a great group drawn together by the biggest Village event of the year.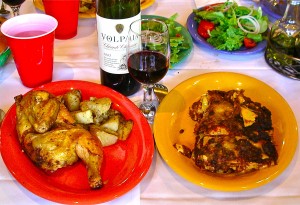 Graziano didn't disappoint–antipasti with roasted peppers, fried eggplant, prosciutto, mozzarella fresca with sundried tomato to start. Everyone ordered whatever they wanted after that.
For me it's always the same meal–an annual tradition. Here's Graziano's lasagna alla bolognese–rich and cheesy with that long-cooked brick red meat sauce. The chicken is simply roasted with potatoes and rosemary and is today's Sunday Recipe. The Volpaia Chianti Classico is one of my favorites. It sold out fast but we got Graziano's last bottles stashed behind the bar. An absolutely delicious lunch.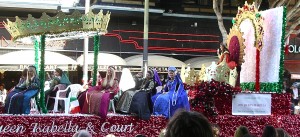 By the time we finished the parade appeared before us. Here's Queen Isabella's float accompanied by her Court.
Hope to see you at the Parade next year. Enjoy my adaptation of Graziano's Tuscan chicken roasted with potatoes and rosemary. Buon appetito!
[amd-recipeseo-recipe:56]