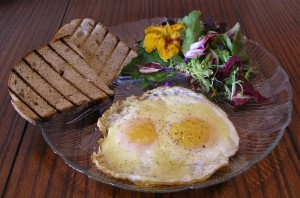 Every once in a while when I was growing up in Jersey my father asked my mother to make a simple Friday night dinner – eggs fried in olive oil. It was one of my favorite meals. The eggs take on a lacy edge and a nutty flavor from the olive oil.
I kicked this one up a couple of notches – shaved Italian fontina cheese melted on top, garlic bread, an edible flower and baby greens salad. I just sprinkle the salad with EVOO, a syrupy Balsamic vinegar and sea salt. I don't even mix the salad. I like surprises – sometimes you get a drop of the sweet vinegar with the EVOO and salt – sometimes not.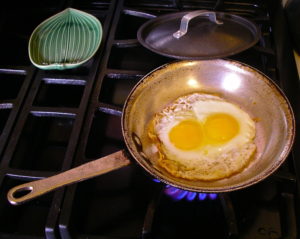 Don't be skimpy with the oil – the eggs should almost float when they hit the pan. Make sure the olive oil is starting to ripple before the eggs go in. Here's how they should look before you finish them off. See that lacy golden edge? That's what you want.
Once the eggs set lower the heat shave on some of your favorite cheese and put the cover on for a minute to melt the cheese and finish cooking the yolks.
While you're cooking the eggs grill some good rustic bread, scrape one side with raw garlic and drizzle with some EVOO just before serving.
Five minutes tops and dinner is on the table.
[amd-recipeseo-recipe:51]