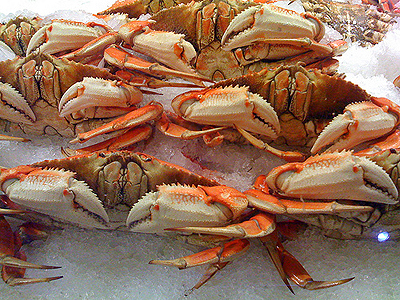 Photo by Miles Grant
I was in NYC when Dungeness crab season opened last week, and couldn't get them out of my mind. The reports were that the harvest was bountiful and the crab were big and meaty. I couldn't wait to get back home. I had to get one and add the crabmeat to a spicy tomato sauce over some linguine.
It was delicious.
Lots of briny and sweet crab in a simple San Marzano tomato, garlic and dried chili infused olive oil. Once you have the crabmeat ready you can make this sauce in the time that it takes to cook the linguine. In Italia, they don't put cheese on seafood dishes. It masks the fresh taste from the sea. Don't do it!
Recipe
Ingredients
Steamed 1-1/2 pound crab
28-oz. can San Marzano tomatoes
2 gloves of garlic, smashed
2 tablespoons extra virgin olive oil (EVOO)
1 teaspoon oregano
1 small dried chili or 1/4 teaspoon red pepper flakes
1 pound or 500 grams linguine
2 tablespoons chopped fresh flat Italian parsley
Drizzle of finishing EVOO
Directions
Bring a large pot of well-salted water over high heat to a boil for the pasta.
In another pan, bring about 2 cups of water to a boil. Put the crab in a steaming basket to keep it out of the water. Steam the crab until it turns a bright red-orange, about 7 minutes for each pound of crab. Or, buy a just steamed crab at your fish monger and have it cracked.
When cool, clean the crab. Here's a link to how to clean the crab.
Pick out all the crabmeat from the legs and body. Shred the crabmeat. Set aside.
In a large cold saute pan, put in the EVOO, red pepper and garlic and over a medium-high flame let the garlic sizzle in the oil until translucent to infuse the oil with its flavor.
Add the tomatoes. Simmer to let the tomato water evaporate and to create a thick sauce, 15 minutes, stirring frequently.
Put the linguine in the pasta water to cook, about 8-10 minutes until al dente.
Add the crab to the sauce and keep on a low flame until the linguine is cooked.
Add the oregano to the sauce.
Check for salt. The crab adds saltiness to the sauce but add more to taste if necessary.
Pull the linguine out of the boiling water with a spider, slotted spoon or tongs and put the linguine into the crab sauce. Finish cooking the linguine in the sauce, about a minute or two, tossing to coat with the crab sauce.
Sprinkle the chopped parsley and mix with the linguine to distribute evenly.
Serve immediately. Make sure each dish has some of the crab. Top each plate/bowl with a drizzle of a finishing EVOO.