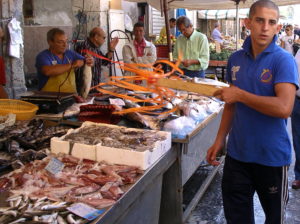 Cena di Vigilia (Christmas Eve meal) is a Neapolitan tradition.
I'm cooking with my friend Susan in her New Jersey kitchen. Along with her brother Joe, we'll prepare our Christmas Eve Seven Fish Dinner for 20 friends.
I'll miss the dungeness crab this year. The San Francisco Fisherman's Wharf crabbers are back after a brief strike over wholesale prices. I've eaten some since the crabs came back on the market last week so I think I can survive without them on Christmas Eve. If you're in town buy some crab. They're fresh, big and meaty.
Create your own Cena di Viglia with these recipes and an extra fried shrimp recipe too. I'll definitely be frying up some calamari and shrimp for my Jersey Christmas Eve.
Buon Natale e buon appetito!