Rhode Island friends are in town and we we're making 2 classic Italian-American pasta dishes. Carol brought a cavati pasta machine all the way from Little Rhody. I've never seen this contraption and I was anxious to try it out.
You say cavati, I say gavadeal. These are RI and Jersey slang for the same pasta, better known as cavatelli.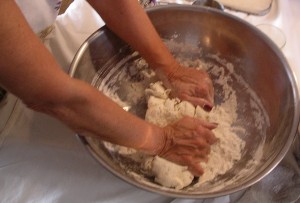 Carol was the lead cook. Her cavati pasta dough is simply ricotta, milk, flour and an egg. This isn't the gnocchi dough that is hardly kneaded so it stays light and tender. This dough is kneaded well to form a stiff, resilient dough, tough enough to be rolled into ropes and fed into the cavatelli pasta machine. It's the fresh version of dried cavatelli pasta and it's worth the effort. We made the cavati dough by hand but you can make it in a food processor to save time and effort. Mix the ingredients and knead it well to form a stiff dough.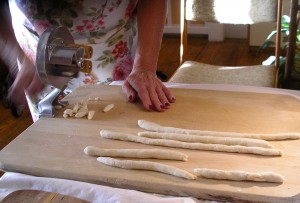 Roll out 1 inch dough ropes, feed it into the machine and crank. Out pop the cavati. The machine is amazing. Just keep cranking and in a couple of minutes you have a sea of cavati.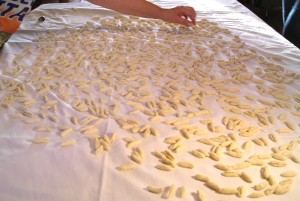 My mother dried her fresh pasta on a clean sheet atop her bed. We dried ours on the dining room table. Spread them out so they don't touch one another and stick together. Let the cavati dry for 30 minutes.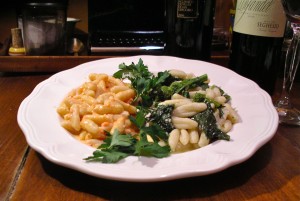 Carol made 2 sauces for the cavati — broccoli rabe with garlic, EVOO and chicken stock and the classic vodka cream sauce. Both were delicious. Here's my first plate. The fresh cavati have a great toothsome feel, tender but resilient with each bite. The broccoli rabe sauce is garlicky and really rich with chicken stock flavor. The pink vodka sauce with flecks of tomato is silky and the cream mellows the San Marzano tomatoes. Buon appetitio!
If you have a cavatelli machine you are in good shape. If you do not simply roll out 1/2 inch ropes of dough. Cut the ropes in 1 inch pieces. Using your thumb press hard on each piece to flatten it out. It should curl up tightly as you press & pull with your thumb. You can get an idea of how to form these by watching my gnocchi video. The difference between the two is that you don't want the puffy gnocchi form but rather a flat disk that tightly curls from the pressure of your thumb.
Or, just buy dried cavatelli from Italia.
[amd-recipeseo-recipe:62]
[amd-recipeseo-recipe:63]
[amd-recipeseo-recipe:64]