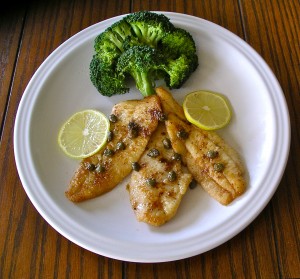 We drove up to Sea Ranch on the Sonoma/Mendocino coast. I was exhausted from driving the switchbacks in the rain and fog and wanted something fast to cook for our dinner. The fishmonger in Gualala had some really fresh petrale sole.
I quickly sauteed the sole in olive oil and butter and poured a caper white wine pan sauce all over.
A little steamed broccoli with EVOO, sea salt and lemon was a great side.
The sole filets take on a golden crust and are flakey and moist. The edges are crisp and nutty. The caper butter sauce gently enhances each bite. The mellow broccoli spears round out the plate. A really quick and healthy lunch or dinner.
The sole recipe is below and here's the broccoli recipe from my Vegetable eBook.
Sautéed Sole with a Butter/Caper Pan Sauce
Ingredients
1 lb. sole, flounder or other flat fish
1/4 cup flour
2 tablespoons extra virgin olive oil
2 tablespoons unsalted butter
2 tablespoons capers, rinsed
1/4 cup dry white wine
sea salt & freshly ground pepper to taste
1 tablespoon chopped Italian fresh parsley
lemon slices, as garnish
Instructions
Put a saute pan over medium-high heat and add the olive oil and butter.
Sprinkle salt and pepper the fish.
Lightly dredge the fish in flour. Shake off any excess.
When the butter is melted saute the fish until a golden crust begins to form, a minute or two on each side, depending on the thickness of the fillet.
Remove the sautéed fillets to a serving platter.
Turn the heat to high.
Add the white wine to the pan, scrape the fond on the bottom of the pan and stir to dissolve the brown bits.
Add the capers to the pan and stir until the sauce thickens, about a minute.
Pour the sauce over the fillets, sprinkle with parsley, scatter the lemon slices about.
Serve immediately.