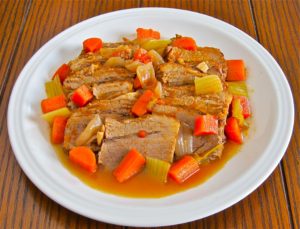 I wanted to eat some beef brisket when I was in the Big Apple last week but it was too damn hot during the 7-day Heat Dome.
I satisfied my craving when I got back home. Here's an Italian version of what many typically think of as a Jewish dish.
Beef brisket is easy to make. After the simple preparation, the brisket just sits on top of the stove braising until the meat is fork-tender.
Serve the vegetables on the side with some garlic smashed potatoes, fettuccine or polenta topped with the pan gravy and you've got dinner on a plate.
The beef brisket is moist and fall-apart tender. The vegetables are soft and sweet. Serve more of the full-flavored pan gravy on the side for your guests to help themselves.
If you're lucky you'll have brisket left over for sandwiches. Be sure to dip your crusty bread in the rich gravy before you put the panini together and you'll be in heaven.
Buon appetito!

Italian Beef Brisket
Beef brisket long braised with aromatic vegetables and herbs is a simple but flavorful lunch or dinner all on one plate.
Ingredients
2 pounds beef brisket
2 carrots, quartered and cut in 2 inches pieces
2 celery stalks, cut in 2 inches pieces
1 onion, cut in half and quartered
2 garlic cloves, roughly chopped
1 tablespoon tomato paste
2 tablespoons extra virgin olive oil
1 bay leaf
2 sprigs of Italian parsley
1 cup sangiovese or zinfandel or your favorite dry red wine
1 cup San Marzano tomatoes crushed by hand
1 cup water (if needed)
sea salt and freshly ground pepper to taste
Instructions
Sprinkle sea salt and freshly ground black pepper all over the brisket and rub it into the meat.
Heat the olive oil in a large enameled pot or thick bottom sauce pan over medium-high heat.
When the oil ripples brown the brisket on both sides to create a dark crust.
Remove the brisket to a plate.
Add the tomato paste, vegetables and herbs, season with sea salt and freshly ground black pepper to taste and cook until the tomato paste darkens and the vegetables start to caramelize. Scrape up the brown bits on the bottom of the pot.
Add the wine and cook until the wine is almost all evaporated. Scrape up the brown bits on the bottom of the pot.
Add the tomatoes and stir well.
Lower the heat to medium-low and put the brisket back in the pot along with any juices on the resting plate. Add some water if necessary so that the brisket is almost covered with the braising liquid.
Put the top on the pot and braise the brisket until it is fork tender, about 60-90 minutes.
Remove the parsley and bay leaf.
Slice the brisket against the grain and serve on a large platter with the vegetables and topped with gravy.