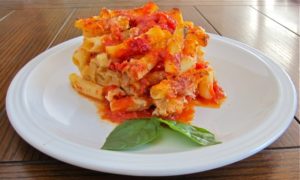 Why go out for a "romantic" dinner on Valentine's Day? The restaurants are crazy busy. Why tolerate the hassle of overbooked places and food pouring out of an overworked kitchen? All you'll get is agita (heartburn).
Don't go out. Stay home and cook Valentine's Day dinner together. Start a new tradition. Enjoy your time cooking together and share food made with love.
A fresh, crunchy and complex Fennel & Orange Salad with Oil-Cured Olives is a perfect first course. Prosecco or Pinot Grigio pairs well with the salad in a citrus vinaigrette.
Baked Ziti alla Sorrento is the star of this special dinner. It's an Italian version of mac 'n cheese from the sunny coast of the Bay of Naples.
The small pasta tubes are coated in creamy ricotta, soft melted mozzarella and marinara sauce then baked in the oven. I can't resist picking off the nutty toasted ziti on top. Save the leftovers. Baked ziti is even better the next day. Aglianico, Nero d'Avola or Chianti go well with the ziti.
By making the marinara while the pasta water comes to a boil and the salad as the ziti bakes, dinner will be ready in about an hour.
And for dessert, top a big scoop of vanilla gelato with a shot of limoncello or your favorite liqueur. Who knows, after all that wine this might be just what you both need to get lucky.
Still want to go out for Valentine's Day dinner? Try one of these North Beach restaurants.
Buon appetito! Happy Valentine's Day!

Baked Ziti alla Sorrentino
Easy baked ziti is sumptuous. The pasta is coasted with creamy ricotta, mozzarella and marinara then baked in the oven until crispy on top.
Ingredients
Marinara Sauce
28 ounce can San Marzano tomatoes, crushed by hand
2 tablespoons extra virgin olive oil
2 cloves garlic, smashed
1 large branch of fresh basil
1 tablespoon dried oregano
½ teaspoon sea salt
Baked Ziti
1 pound ziti
1 pound ricotta
8 ounces fresh mozzarella
3 cups marinara sauce
5 basil leaves
1 cup grated parmigiano, pecorino or grana padano
Instructions
Before you get started put a large pot of well salted water to boil over high heat. (Use about 5 quarts of water and at least 1 tablespoon of sea salt for a pound of pasta.) Heat the oven to 375 degrees.
Marinara Sauce
Put the olive oil and garlic in a pan and over medium-high heat. Saute the garlic until it starts to take on some color.
Add the tomatoes, basil, oregano and salt.
Reduce the heat to medium-low, stir occasionally and cook until the sauce thickens, about 20 minutes.
Set the sauce aside.
Baked Ziti
Cut the mozzarella into 1-inch cubes.
Put the ricotta in a strainer to drain.
Cook the ziti in a large pot of well-salted rapidly boiling water. Drain the ziti just as it reaches al dente, about 10 minutes.
Put the ziti in a large bowl. Add the ricotta, mozzarella, ½ cup grated cheese, 2 cups of marinara sauce and basil leaves ripped in small pieces. Mix to coat the pasta well,
Cover the bottom of a baking dish with marinara sauce.
Spread the ziti evenly in the baking dish.
Top the ziti with the remaining marinara sauce and sprinkle with the remaining grated cheese.
Bake in the oven until the top of the baked ziti starts to turn golden, about 30 minutes.
Serve immediately.