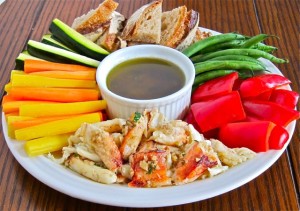 The dungeness crab season started a couple of weeks ago and the harvest is superb.
So here's a simple delicious start for your Thanksgiving dinner, steamed crab and vegetables with bagna cauda, a flavorful anchovy-garlic hot dipping sauce.
This is a super easy dish. Buy some fresh-steamed and cleaned crab, dungeness here in the Bay Area, blue crab on the east coast.
Cut up your favorite vegetables. Serve the vegetables raw or blanch them for a couple of minutes in boiling water if you like. Slice some cubes of crusty, rustic bread.
Make the bagna caulda dipping broth in 5 minutes. Keep it hot on the stove until you're ready to eat. You can serve it over a flame in a fondue pot or a small earthenware pot over a candle-warmer.
I just put the steaming bagna cauda in a small pot on the table without a flame. It's usually all gone before it cools off.
Crab, multi-color carrots, zucchini, red bell pepper and green beans and crusty bread surround the bagna calda. You can leave the cracked crab in the shell to dip but I wanted to make it easier to enjoy. Drizzle some bagna calda over the crab pieces so your guests can scoop up some of the pieces too small to dip .
Dip the large crab pieces and the vegetables in the bagna cauda. Hold the bread underneath to catch any drippings as you transport the crab and vegetables to your salivating mouth. Dip the bread in the sauce, eat it and start all over again. It's a fun antipasto to share.
The mellow briny anchovy-garlic infused oil is a perfect boost for the sweet meaty crab and crunchy veggies .
Here are some other suggestions to add a bit of Italy to your American Thanksgiving meal.
Best wishes for a wonderful time with family and friends at your Thanksgiving table.
Buon appetito!

Bagna Cauda-A Hot Dipping Sauce
Ingredients
¾ cup olive oil
2 tablespoons unsalted butter
3 garlic cloves, crushed and then finely chopped
8 anchovy fillets, chopped
1 tablespoon minced flat-leaf parsley, chopped
Instructions
Put the olive oil and butter In a small sauté pan or small pot over low heat.
Add the butter and olive oil to the pan. When the butter is melted and just starts to foam add the garlic and sauté briefly, until the garlic starts to give off its aroma, about a minute. (Don't allow the garlic to take on any color.)
Add the anchovies to the pan and cook stirring frequently until the anchovies dissolve.
Add the parsley and stir well.
Serve the bagna calda immediately in a small crockery pot or bowl along with the crab, vegetables and bread.