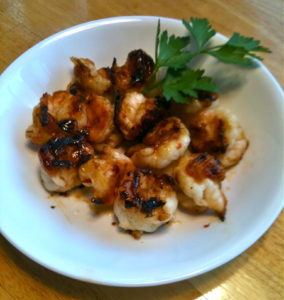 After a work week in Manhattan I gathered in Clifton, NJ with friends on Saturday for a day of grilling, eating and drinking on the backyard deck. It was one of those lazy days–90 degrees and beautiful, to be enjoyed outside and not in a steamy kitchen. We planned to eat for hours, so a simple, fresh menu was in order.
I thought it was too early in the season but we scored some Jersey tomatoes. Ever had a Jersey tomato? Big, fat, juicy, and deep red. They call them beefsteaks they're so meaty. You can slice them up and eat them like a steak. Heirlooms are great but Jersey beefsteaks are best. Slices of freshly made mozzarella alternated with a fat slice of the sweet tomato and a basil leaf sprinkled with a little sea salt and a drizzle of EVOO and we had Caprese to die for as our antipasti.
Also at hand: a bag of fresh organic basil, had to be used. Pesto, presto –to be served over trifole, the traditional small twisted pasta from Liguria where this pesto was invented. When basil is fresh and abundant in the summer months, liberally is the only way it should be used.
You know me I get these "woolies", these cravings for a certain food. Well, one came over me in Jersey: shrimp on the grill basted with a Calarian chili paste, honey and EVOO glaze. The shrimp are crunchy with a hot/sweet exterior and a juicy succulent interior. Simple and quick.
We also had some early sweet peaches so I had to make a chilled Neapolitan "sangria". It's a standard for hot summer days. When the peaches are fat and juicy just soak slices in a robust red wine. The wine picks up a hint of peach flavor–a perfect accompaniment for our summer lunch. Then eat the wine-soaked peaches for dessert.
Enjoy caprese, sweet grilled shrimp, pesto and pasta, and sip home-made sangria for your next meal on a sultry summer day.
[amd-recipeseo-recipe:31]
[amd-recipeseo-recipe:32]