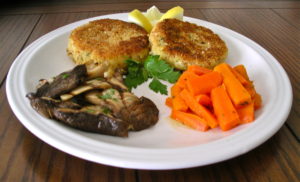 I kicked myself when talking to my sister the other day. I'd roasted halibut and there was some left over the next day. Who wants to eat leftover fish? I put it in the compost bin.
"Oh no!" she exclaimed, "you could have made fish cakes." Damn, she's right. It's been on my mind for days. I had to satisfy the "woolie" (craving) so I made fish cakes today.
My mother made these fish cakes with baccala (dried salt cod) but you have to soak the baccala overnight and it stinks up the apartment. Here's a variation using fresh cod instead. It's simple and delicious.
These cod cakes have a crunchy exterior and a creamy interior. The potato mellows the flavor of the cod and a squeeze of fresh lemon brings it all together.
I finished off the plate with meaty marinated grilled blue trumpet mushrooms and pickled carrot sticks. The mushrooms are smokey and their flavor is accentuated by the garlic-infused olive oil. The sweet and acidic pickled carrots are a good counter-balance to the rich fish cakes. A lovely weekend lunch indeed.
The pickled carrots are great to have around as an addition to an antipasti platter or as a side with a panino or even fish or meat. They'll keep a couple of weeks at least in the refrigerator. Just remove the garlic and hot pepper before refrigerating. The flavor gets better over time.  The mushrooms can be kept in the refrigerator for a couple of days too and used in the same ways as the pickled carrots.
You got lucky – here are all 3 recipes.
[amd-recipeseo-recipe:53]
[amd-recipeseo-recipe:54]
[amd-recipeseo-recipe:55]