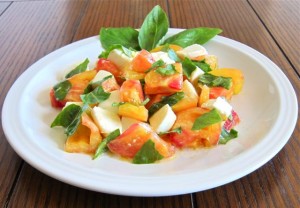 I returned from NYC to find the first decent crop of local heirloom tomatoes. A big, fat golden and red orb in the farmer's market had my name on it. The ripe tomato had a sweet aroma and was just firm to the touch. You don't mess we these babies in their prime. Keep it real simple.
Tomato and mozzarella salad is a riff on the traditional Caprese, slices of tomato, fresh mozzarella separated by a basil leaf and drizzled with EVOO.
I like the chunky pieces of tomato and smaller bocconcini mozzarella balls cubed and sprinkled with torn basil leaves, EVOO and sea salt.
I let the salad marinate for a half hour before serving to bring out the sweetness of the tomato and infuse the olive oil with the basil. All of the juices create a marinade to coat everything with flavor.
Tomato salad is a refreshing start to any summer meal or as a side for grilled or roasted sausage or other meats. Just make sure you have a good hunk of bread to soak up all the juices.
Enjoy the summer bounty. Buon appetito!
[amd-recipeseo-recipe:98]