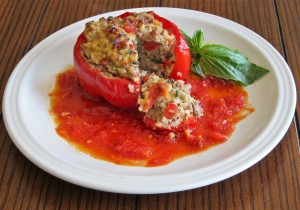 I had a hankering for stuffed peppers for a while so I made some today. Peppers are flooding the farmers market and a couple of big, ripe red bell peppers called out to me this morning.
The roasted stuffed peppers are tender and sweet. The arborio rice and ground beef stuffing is pumped up with shallot, oregano, parsley and parmigiano and baked with a simple San Marzano  tomato-basil sauce. The top is golden with a nutty, crunchy crust. The moist savory rice stuffing absorbs the sweet San Marzano and basil sauce to create a taste medley in each bite.  Early summer on a plate. Just delicious.
Stuffed peppers don't take that long to make. Most of the time is roasting the stuffed peppers and then finishing them in the oven with the tomato sauce.
You can serve the stuffed peppers as an antipasto course, as a side with meat or for lunch, maybe with some pasta dressed with the tomato sauce from the baking pan on the side.
Use bell peppers or choose your favorite pepper. Italian frying peppers or banana peppers work well too. Don't add the meat and enjoy just as flavorful vegetarian stuffed peppers.
Buon appetito!
[amd-recipeseo-recipe:93]
[amd-recipeseo-recipe:94]