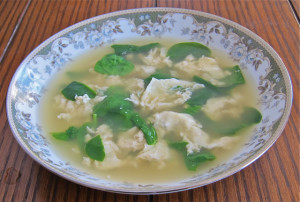 After a slice of savory Pizza Rustica and some arugula salad, the first course for my Easter meal is Stracciatella, Italian egg drop soup.
Stracciatelle means "little rags" in Italian. They're formed by whisking beaten eggs into hot chicken broth. My Mom made perfect little egg rags in her soup.
This is an elegant but terribly simple soup to make. Just heat up some chicken broth, whip in the beaten eggs to make little rags, tear in baby spinach leaves and eat.
Use your homemade chicken broth or a low-sodium broth you pick up at the market. Stracciatella will be ready in the time it takes to bring the broth to a boil.
I'm looking forward to having Stracciatella either in Roma or Napoli while I'm in Italia soon. It's a popular dish in both cities.
The mild broth is the perfect bath for the torn tender spinach and the egg rags flavored with parmigiano and black pepper. Stracciatella is a wonderful light and flavorful first course.
Watch me making the bookends for my Easter meal, savory Pizza Rustica and sweet Pastiera Napoletana, traditional Easter deep-dish ricotta pies.
Buona Pasqua! Happy Spring!

Stracciatella--Italian Egg Drop Soup
Ingredients
6 cups low-sodium chicken broth
2 large eggs
2 tablespoons freshly grated Parmesan
Pinch of nutmeg
2 tablespoons chopped Italian flat-leaf parsley
1 cup baby spinach leaves (rip larger ones into smaller pieces)
Sea salt and freshly ground black pepper
Instructions
Bring the broth to a boil in a large saucepan over medium-high heat.
In a bowl whisk together the eggs, cheese, parsley, salt and pepper to taste.
Reduce the heat to medium-low. Stir the broth in a circular motion.
Gradually drizzle the egg mixture into the moving broth, stirring gently with a fork or whisk to form thin strands of egg, about 1 minute.
Stir in the spinach and cook until the spinach starts to darken in color.
Add sea salt and pepper to taste.
Ladle the soup into bowls and serve. (Put out some grated parmigiano and let everyone help themselves.)