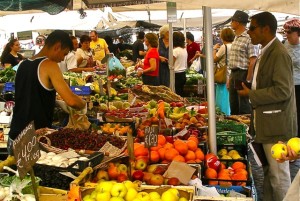 You may have seen the news reports about the Mediterranean diet study just published in the New England Journal of Medicine.
People who eat lots of beans, nuts, fish, vegetables and fruits, use extra virgin olive oil and drink wine with meals have a lower incidence of heart disease and other medical problems.
In Italia, you'll find locally grown, seasonal produce markets in every city neighborhood and town. Campo di Fiori is one of the most famous. I shop it often when staying in the historical center of Rome.
Italians cherish fresh produce. They eat fish often. Nuts often end a meal. Extra virgin olive oil is an Italian kitchen staple. Meat is eaten in moderation.
Italians eat most of of their food at the midday meal. Supper is a simple, light meal.
I get a lot of exercise every day in Italia, including a delightful passagata or stroll after the evening meal. I'll be enjoying the local bounty in Italia soon. I'll share what I cook in Rome and Naples with you.
I try to maintain an Italian diet here in North Beach. Luckily I have ample access to local, seasonal vegetables, fruit, and locally caught seafood. Beans and grains are a significant part of my diet. And, I always use extra virgin olive oil except when frying.
Adopt a Mediterranean lifestyle and you'll never need another diet scheme to lose weight or stay healthy. Eat Italian. It's delicious and it's good for you. Try this simple vegetable recipe and fish recipe to get a taste for yourself.
Here's the New York Times article and a link to the Journal report.
Buon appetito!