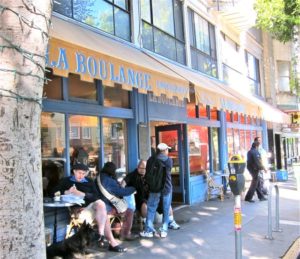 Chain stores are not welcome in North Beach.
Over the last 2 decades Walgreens and other chains that wanted to open here were blocked by neighborhood protest. Since 2005 chain stores with more than 11 outposts have been banned by the San Francisco ordinance designed to maintain North Beach's unique character by keeping out "formula retail" chains that you can find anywhere in America.
So with that kind of protection how does Starbucks get into North Beach? It's easy. Starbucks just announced that it will buy the local La Boulange Cafe and Bakery chain for a hundred million dollars. La Boulange has a cafe in North Beach.
La Boulange now has 19 cafes scattered around the Bay Area but when La Boulange de Columbus opened it was only the 5th cafe in a fast-growing chain. Some neighbors weren't too happy about even a small chain moving in but La Boulange prevailed.
Starbucks could never get a North Beach permit on its own. The La Boulange purchase gives Starbucks a coveted North Beach outlet. Soon all Starbucks locations will only serve La Boulange baked goods and all La Boulange cafes will only serve Starbucks coffee.
I hope old-time North Beach institutions like Caffe Puccini, Caffe Trieste, Caffe Roma, Cavalli Cafe and Caffe Greco continue to flourish with Starbucks in their midst. We'll see. I'm reminded of the bumper sticker supporting local roasters and coffeehouses from the early days of the Starbucks Bay Area invasion , "Friends Don't Let Friends Go To Starbucks". North Beach, take notice.