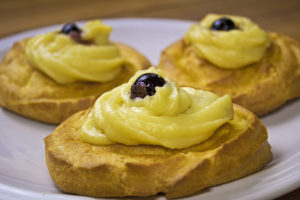 March 19 is St. Joseph's Day, also Father's Day in Italy. It's the time of year to make a special sweet, Zeppole di San Giuseppe. You find zeppole all over Italia this time of year.
Each region makes them in their own way. In North Beach they make small donuts from the north of Italia filled with a lemon-scented custard. Mine are the bigger version made in Naples and the surrounding region of Campania. The light pastries are fried or baked and then filled with a cooked creamy custard topped with a sour cherry in syrup called Amerena. (You can get Amerena cherries at Molinari on Columbus or at Amazon and other online sites.)
Zeppole are a traditional part of the feast day celebration. They are a fitting tribute to St. Joseph who is also the patron saint of pastry makers and they are delicious. Zeppole are fun to make and really not that difficult. You can make them too.  Just watch my Zeppole di San Giuseppe episode to see how.
I was at Caffe Di Lillo in the Arthur Avenue area of the Bronx last month. Arthur Avenue is New York City's Real Little Italy, a compact area loaded with Italian bakeries and markets. The Di Lillo folks were making Zeppole di San Giuseppe a little bit early. I broke my rule only to eat the zeppole once a year on the Saint's Day. I couldn't help myself. We bought a half-dozen to end the meal we would cook up in Jersey later that day. Di Lillo's zeppole were as good as I've had in Naples.
If you don't make Zeppole di San Giuseppe for yourself you can find them at pastry shops in Italian neighborhoods everywhere. Not that long ago you could get 3 different versions of zeppole in North Beach. Now there's just one bakery that still makes them. Here in North Beach head to Victoria Pastry on the corner of Stockton and Vallejo. If you want to be sure to get some place your order this week. They sell out fast.
Happy Saint Joseph's Day! Eat zeppole!