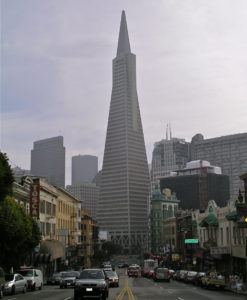 I ran into former Supervisor Angela Alioto at last Sunday's Italian Heritage Parade. I asked her about the long-anticipated project to build a piazza in North Beach. She said something definitive would be announced very soon. I think she was referring to Carl Nolte's Native Son column in today's Chronicle.
Here's the piazza story.
San Franciso's first Poet Laureate, City Lights Bookstore owner and North Beach resident Lawrence Ferlinghetti and Angela Alioto, a devoted follower of Saint Francis of Assisi, teamed up to bring religion and art together in the Dennis Sullivan-designed St. Francis Piazza. The piazza will celebrate the long and proud marriage of the sacred and the profane in our Village – represented by Saint Francis and poets.
After more than 5 years of debate, fund-raising, and City approvals the vision will soon be realized. Private funding should be fully in place by early 2012 and construction of the much anticipated piazza in front of St. Francis of Assisi National Shrine (Vallejo between Columbus/Grant) may start sooner than that.
I'll keep you posted. But first here's Lawrence talking about his Piazza vision.
I can't wait to be sitting with you on a Saturday afternoon under the olive trees sipping a Caffe Trieste espresso and listening to live Italian music.