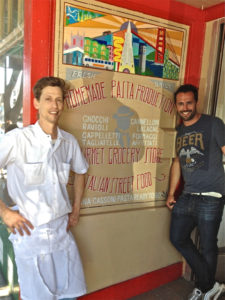 The Italian Homemade Company opened in North Beach on Columbus between Filbert & Greenwich a few days ago. I visited this morning for the first time. It was like stopping by someone's kitchen in northern Italy.
I'm making a light pasta cream sauce with zucchini blossoms and was looking for fresh pasta. I bought some of Homemade's fresh tagliatelle. But I couldn't resist this morning's crop of tiny spinach and ricotta ravioli for my delicate sauce.
Mattia Cosmi and Alice Romagnoli, the gracious owners, are settling into their new space. Alice makes fresh pasta every day. She hails from Rimini on the northern Italian Adriatic coast where they make beautiful fresh pasta. Mattia, is from the Marche region.
Another owner, Carlo Ciccardi, was jet-lagged after arriving a few hours ago from a trip back home near the beautiful beach town between Naples and Rome, Sperlonga.
Stop in soon for fresh pasta, salumi, cheeses and imported products. Italian Homemade will make several fresh pasta choices each day along with other fresh dishes to take away.
Today Alice made a lasagna with bechamel and ragu. She suggested a baked in-house piadina (flat bread) sandwich with your choice of stuffed baked tomato or pepper inside. Add some prosciutto and mozzarella and you have a fresh street-food meal to eat at the long communal table or to take away to enjoy in Washington Square, just a block away.
Benvenuti e buona fortuna! A warm welcome and best wishes to our new neighbors. Thank you for bringing another slice of Italia to North Beach.
My lunch turned out beautifully.
The Italian Homemade Company spinach and ricotta ravioli are delicate but toothsome. The tasty little ravioli are bathed in the shallot-flavored cream sauce accented by the sweetness of the zucchini blossoms and the nuttiness of the parmigiano. Even with just a few ingredients, these ravioli explode with complex flavor in every bite.
Here's the recipe for the squash blossom cream sauce. It works well with delicate stuffed pasta or flat fresh or dried pasta like fettucine or tagliatelle.
Check out Italian Homemade's Facebook page.
Buon appetito!