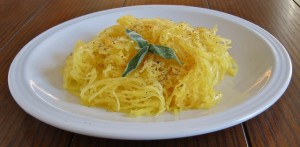 A friend suggested a winter squash as a side for my New Year's Eve veal roast stuffed with spinach. Spaghetti squash was a perfect choice.
The yellow spaghetti squash balanced the colors on the plate. The slightly sweet squash accented by mild sage and garlic infused EVOO was a nice contrast to the roast with a zesty spinach stuffing.
Stumped about how to handle spaghetti squash? It's actually easy to cook. The hardest part is carefully splitting the squash in half.
Bake the squash for an hour and pull out the long spaghetti strands. Quickly saute the spaghetti squash in EVOO or butter gently flavored with your favorite herbs and aromatics. Or top it with marinara sauce and grated parmigiano. It is spaghetti squash after all.
Spaghetti squash is a versatile, simple and delicious side dish that you can enjoy often.
Buon appetito!

Spaghetti Squash with Sage and Garlic
Spaghetti squash is easy to turn into a versatile side dish for your next meal.
Ingredients
1 spaghetti squasth
1 garlic clove
2 fresh sage leaves
3 tablespoons EVOO
sea salt and freshly ground pepper to taste
Instructions
Preheat the oven to 375 degrees.
Peel and smash the garlic clove.
Cut the spaghetti squash in half lengthwise. (Use a big, heavy, sharp knife to safely cut through the squash.)
Drizzle the cut sides with the other tablespoon of EVOO.
Place cut side down on a cookie sheet and bake in the oven for an hour, until the squash is knife tender.
Remove the squash from the oven, turn it cut side up and set aside to cool.
When the squash is cool enough to handle, scoop out all the seeds and discard them.
Use a fork to gently pull out all of the spaghetti squash strands. Keep the strands as long as possible. (I like to start at the top and scrape towards the bottom of the squash.)
Put the EVOO, sage and garlic in a sauté pan.
Heat the oil over medium-high heat.
When the oil is hot add the spaghetti squash and quickly saute to cover all the squash with the infused olive oil.
When just heated through remove to a serving platter. Dust with sea salt and freshly ground black pepper.
Serve immediately.