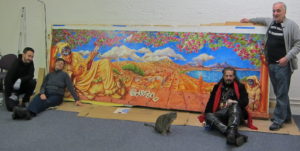 3 weeks to the day since the heavily damaged North Beach Song of Pulcinella mural was rescued from the dumpster and he's back in his all his glory.
Today we gathered at Emerald Tablet where the artist Vranas restored his mural. We had to position the really heavy mural so that handyman Sean O'Donnell could trim off the excess and put on its new frame.
Oh no, a small piece of the bottom border popped off as we started to move the really heavy mural. I panicked but Vranas assured me that the border will pop right back into place. He'll lightly touch it up after the frame is on. Whew, tragedy avoided. Vranas and Sean made a couple of design changes and Sean's framing work got a whole lot easier.
Now that the restoration work is complete, Song of Pulcinella will be under wraps until its Second Unveiling on December 2. I can't wait for the cloth to drop.
Song of Pulcinella carries some battle scars but I think the mural is back as beautiful as ever. Stop by Emerald Gallery after December 2 and let me know what you think.
We're still searching for Pulcinella's permanent home. Any thoughts about a public North Beach indoor space where Song of Pulcinella can be enjoyed by all?