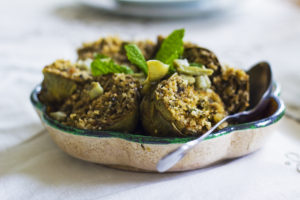 I'm jazzed. San Francisco's own world-famous Italian cook, teacher and author Joyce Goldstein is preparing a Seder at Perbacco on April 10. The roots of this meal are in Square One, Goldstein's sorely missed Jackson Square restaurant. She first served a Seder meal there in 1989 celebrating the food of the Italian Jewish kitchen.
I had forgotten about this event but an office-mate reminded me this morning. I called Perbacco right away to book an early table for 10 of us.
"Sorry" Perbacco's Steven said. "Come at 8:45". "Can't do it," I told him. How about three tables for four at 6:00." "Yes I can do that but they won't be together." "That's OK at least we're in the door." I wasn't missing this meal.
A half-hour later my phone rang. It was Steven. "Just had a cancellation. I can give you a table for 10 at 5:30. It's in the private room upstairs overlooking the kitchen." "I'll take it! Can you see down into the kitchen?" "Yes. I look forward to meeting you at the Seder."
Score! Turns out the room sits 18 and half of the seats at the table are already claimed. So far we're half Jewish and half Gentile.
So what am I so excited about? I'm a big fan of cucina Ebraica, the food of the Italian Jewish kitchen. Within a day or 2 each time I arrive in Roma I lunch at Giggetto al Portico d'Ottavia overlooking incredible Roman ruins in the Jewish Ghetto. My typical meal is carciofi alla Giudia, crispy fried artichokes in the Jewish style that look like a giant chrysanthemum on the plate, then spaghetti alla carbonara and last fried baccala (reconstituted dried-cod fillet) all washed down with chilled local Frascati. Here's my video making the stuffed artichokes that I first had in the Ghetto.
I won't be in Roma again until later this year so here's my chance to enjoy some of the fantastic Italian food from the Ghetto right here in San Francisco.
I loved Square One and one of my favorite cookbooks is Joyce Goldstein's Cucina Ebraica–Flavors of the Italian Jewish Kitchen. With Joyce and Perbacco's maestro Staffan Terje in the kitchen this will be quite a night. Here's the Seder menu. Give Stephen a call. He's good. Maybe he can still find you a table on Perbacco's busiest night of the year. Or, join our private communal table. Let me know if you're interested and if any seats are available I'll shoot you an email.