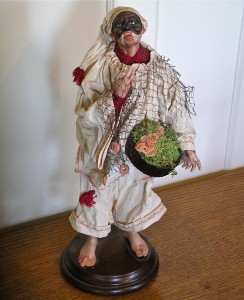 "Mean, vicious, and crafty, his main mode of defense is to pretend to be too stupid to know what's going on, and his secondary mode is to physically beat people." – Wikipedia entry for Pulcinella
A new mural was going up last year at the North Beach pizzeria and ristorante, Pulcinella. I stopped by once in a while to check on the muralist, Vranas', emerging homage to Napoli,  "Song of Pulcinella." Pulcinella is the 17th century commedia d'arte character adopted by Neapolitans as their own.
I remember the night we sat under the just completed mural featuring the ancient city and a smoking Vesuvio on the Bay of Naples, eating a great dinner. Neapolitan songs were in the air, mandolin strains drifted from the trio right in front of us. I glanced up and there he was – Pulcinella in all his glory beaming down at me.
When I learned the pizzeria was closing I emailed Mauro Caputo who was overseeing the close-out of the space to find a way to save the mural. It was too late.
I got Mauro's response the next morning: "Ciao Gianni, unfortunately I just read your email, the mural is already on the floor, we took it off this morning early. Buona Giornata." Oh no! I rushed up to Pulcinella right after work.
Here's what I found when I arrived. The whole back wall which the mural had been painted on had been cut out with a circular saw. The mural was in two large sections and there were pieces missing. Mauro and I scoured the floor to find more chunks of the mural. We matched a corner here a border there like making a jigsaw puzzle.
The landlord wouldn't let us leave the mural there. We had to get it out in 24 hours. What can I do with a 15×6 foot piece of wall, studs and all, weighing a few hundred pounds? The clock was ticking and I didn't have a clue. I wasn't even sure we could put all the pieces back together.
I hit the sidewalk. I was on a mission. I saw Howard, a North Beach artist, on the corner. I told him my story and asked him to come with me to view the mural. He said the mural could be saved and it should be saved for all to enjoy. I said I had a place in the Mission where I could temporarily store the mural.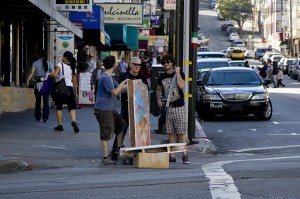 "No, keep the mural in North Beach. It will be easier to restore here," he said. Now I needed a plan.
Howard suggested some places where I might move the pieces while we figure out how to restore it. I stopped at a dozen places. It was an Open Studios weekend and there was no room anywhere. People were talking about the fate of the mural as I walked the Village looking for temporary shelter. One more place to try on the edge of the Village. I introduced myself to Della and Lapo at the busy Emerald Tablet, a new North Beach art workshop/gallery and explained my plight. My new allies told me I could bring the pieces there for a few days as I worked out a restoration plan.
Yipee! But how do we get the mural pieces to the gallery? It was only a few blocks away. We can roll it there I thought. I searched the Village for a furniture dolly. John at Focus Gallery on upper Grant had one that I could use.
One of the hottest days of the year and I have to push a wall 3 blocks with hills and balance it on this tiny dolly so it doesn't tip and smash on the sidewalk. We slowly made our way. Traffic had to stop for us it took so long to make it across Columbus Avenue. Sweaty, dirty, thirsty we finally set the mural pieces in the back of the gallery space.
"Song of Pulcinella" is not smashed in a dumpster. The mural is safe for now. We saved it with 18 hours to spare thanks to my North Beach friends and neighbors. Sometimes it does take a village. And thank you for your help too, Pulcinella!
I'll keep you posted on the restoration. Hopefully the mural will be installed somewhere in North Beach for all to enjoy. Any thoughts on where it should live?