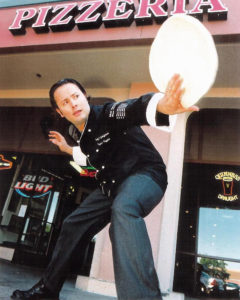 The World Pizza Championship is coming to Las Vegas. Don't get too excited. The Championship has nothing to do with making a good pie. You win a prize if you form dough fast, can do acrobatics while you toss the dough, or you are the fastest pizza box assembler.
The Games are cool, and some of these skills might be helpful on Super Bowl Sunday, but taste is what matters to me.
You know I make a mean pie in my kitchen. But I can't replicate the pies that come out of those really hot ovens – wood-burning, coal-fired, gas or electric. Luckily I can choose from a variety of authentic pizze in North Beach. Here's some history about pizza and the regional varieties you'll find in Italia and in North Beach.
No need to go to those red-hot spots around town where you have to wait an hour just to get in. I don't have the patience. Try these!
Baonecci (Green near Grant). A thin-crust pizza properly charred with the best San Marzano tomato sauce ever. Simple pies made right by this lovely young family from a small town near Lucca.
Cinecitta (Union near Columbus) Named after the famous movie studio in Roma. A small unpretentious space with great Roman-style pizza, a bit thinner crust than those in Naples.
Pulcinella (Vallejo near Columbus). Two brothers and a cousin from Naples (part of the world-famous Caputo flour family) are doing a great job here. First time there they told me that their pies were better than the famed da Michele one of my favs in Naples. Their margherita came damn close! Not a criticism–the pies are just different. This is North Beach not Napoli.
Tony's Pizza Napolitana (Union/Stockton) Tony won the prize for best margherita in a prestigious pizza competition in Naples. He makes Neapolitan, Roman, Sicilian, Classic American and Classic Italian styles. Each style has its own flours for the dough and is baked in one of the 4 ovens (wood, gas, electric and coal). We go at odd times so that we avoid the long waits or we just grab a slice next door at The Slice House.
Tomasso's (Kearny near Broadway) They've been making pizza for about 75 years in the same wood-burning oven that was the first in the west. We go on Sunday afternoon just as they open to avoid the lines. Great east coast style pizza, no bull.