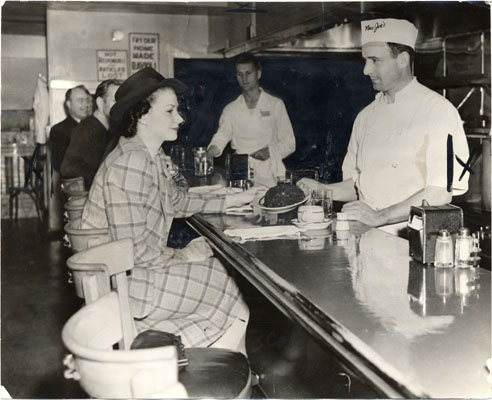 New Joe's Restaurant, 1941, North Beach. Image courtesy of SF Public Library
The SF Public Library is hosting a new exhibit called San Francisco Eats, and it's all about the unique food history of our fair city:
San Francisco Eats showcases the culinary delights that can be found in the San Francisco Public Library's collections dating back to the mid 19th century and will serve as a visual feast for visitors of all ages. From the Gold Rush to Slow Food, San Francisco has never stopped being a beacon of gastronomic delight.

This exhibition includes menus, historical photographs, an array of food writers, cookbooks and culinary history, ephemera such as coasters and matchbooks, and San Francisco food inventions, including gadgets and signature dishes.
I'll be attending an opening-day event, hoping to learn something about my favorite intersection of food and history in SF – you guessed it! – North Beach! Come out and say hello.