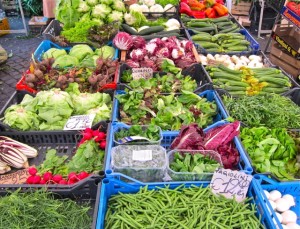 I met up with Alessandro, my produce vendor friend in the Campo di Fiori farmers market as the sun began to break through the early morning clouds.
I was especially interested in what he harvested from his garden and from the wild. He had these wispy asparagus stalks no bigger than a thin straw that poke up from the ground for a brief spell this time of year.
I had to buy some for a frittata, a thick Italian flat omelet, the eggs flavored with grated pecorino, salt and freshly ground black pepper that would tide us over as we set up for the video shoot in my Spanish Steps apartment kitchen.
Fans suggested that I make on camera some of the classic Roman dishes that I made in North Beach to get ready for my trip.
Alessandro had wild cicoria, tender chicory shoots that inspired the first episode. It's an easy dish but a universal method for preparing green leafy vegetables in a pan with olive oil, garlic and dried chili.
The second episode was vignarola, the Roman spring vegetable stew with baby purple artichokes, fava beans so young and tender they could be cooked right out of the pod and sweet spring peas.
Antica Norcineria Viola (pork store) right behind Alessandro's stall had guanciale, cured pig jowl, to flavor this classic spring vegetable dish. Benedetto was my 4th generation Norcineria guide that his family opened in 1890.
I checked off the last item on my shopping list and we headed back to my apartment to cook.
In my next post you'll meet Giulia, a wonderful Roman home cook, who happened to show up in my kitchen as we were shooting the video episodes.
In the meantime if you're in the mood make an asparagus fritatta for yourself.
Buon appetito!