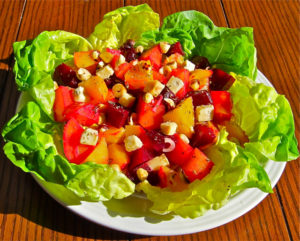 The Virginia branch of the family gathered at my nephew's beautiful new house on Smith Mountain Lake in the Blue Ridge Mountains.
No one but my sister and brother-in-law knew I was joining 3 generations for this Thanksgiving gathering. As each wave of the family arrived at the lake taking in their surprised reaction upon seeing me for the first time was priceless.
Thinking I was in San Francisco my nephew emailed me on Tuesday as we were driving to the lake from Richmond.
"Hi John. I hope all is well. I wanted you to know I watched the video with your ribs hotness challenge and will make those for mom and dad over Thanksgiving. Looks awesome and perfect for a late fall ribs at the lake. Hope to catch up soon."
"You'll love these Greg. Happy Thanksgiving," I replied. Little did he know that we would cook them up together that night to feed the first wave of family to arrive. 2 pounds of imported penne pasta and 3 full racks of ribs in a San Marzano tomato sauce doused with hot oil were quickly devoured by the crowd at the table.
3 generations pitched in to cook up a fantastic southern Thanksgiving dinner. There were so many side dishes I had to fill up my plate twice to get a taste of everything.
I'm eating light now that I'm back home. Here's an updated version of my family's favorite beet salad. Nothing concentrates the sweet beet flavor than roasting them in their jackets but in a pinch you can use canned beets too.
The tender butter lettuce is a perfect base for the sweet beets bathed in an olive oil, red wine vinegar, oregano & shallot dressing. Gorgonzola adds a zesty flavor note and crunchy hazelnuts add texture to this simple delicious salad.
Buon appetito!

Roasted Beet Salad with Gorgonzola
Sweet roasted beets served over butter lettuce with an olive oil, red wine vinegar & oregano dressing dotted with gorgonzola & toasted hazelnuts
Ingredients
2 red beets
2 gold beets
1 head butter lettuce
1 large shallot, thinly sliced
4 tablespoons extra virgin olive oil
2 tablespoon red wine vinegar
1 teaspoon dried oregano
sea salt and freshly ground black pepper to taste
¼ cup toasted hazelnuts, roughly chopped
gorgonzola, diced into small pieces
Instructions
Heat the oven to 425 degrees.
Wash the beets and do not peel them.
Brush the beets with olive oil and put them in a baking dish. Cover the bottom of the dish with foil for easy clean-up.
Roast the beets until they are knife-tender, about 20-30 minutes.
In the meantime, put the olive oil, vinegar, oregano, salt and pepper to taste in a large bowl and whisk well. Add the shallots and set the bowl with the dressing aside.
Lightly toast the hazelnuts in a saute pan to bring out their rich flavor. Roughly chop the hazelnuts and set them aside.
When the beets are cool enough to handle, trim the top and bottom and remove the skin.
Cut the beets in small wedges and put them in the bowl with the dressing and mix well to coat the beets with the dressing.
Lay the lettuce leaves on a large platter and cover them with the beets.
Drizzle the dressing remaining in the bowl all over.
Dot the beets with small gorgonzola cubes and sprinkle the chopped hazelnuts all over.
Serve the beet salad chilled or at room temperature.