You can only get Gianni's eBooks from this website. We do not sell them on Amazon, Apple's iBookstore, or any other third party site at this time. This allows us to offer them at a much lower price to you, since those places all take a large percentage of the selling price for themselves.
However, you can read our eBooks on any device, including Kindle, iPhone, iPad, Android, or whatever-device-you-please.
For all our recipe eBooks, one price gets you both PDF and ePub versions. PDFs are universally viewable (including on Kindle), but difficult to use on some mobile devices. ePubs can be viewed on any platform except Kindle, and are especially sexy on iPads & iPhones (but are also viewable with some Android apps). Here are the books on offer at this time: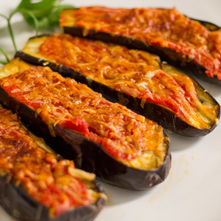 Now Free: North Beach Italian –
Veggies, Vol. 1
A bunch of the most requested vegetable dishes by those at my table. (I've included some of my vegan niece's favorites.) These recipes will serve 4-6 people but they are all scalable. This eBook is now completely free. Just LIKE us on Facebook and we'll give you the download link.

iPhone & iPad Instructions
Import the ePub version of your eBook into iTunes:
Click "Books" in the left pane of iTunes
Click "File > Add to Library…" and navigate to the ePub file in question. It will pop up in the main "Books" window.
With your iPad or iPhone connected, click on the device in the left pane of iTunes, then on "Books" in the main window, and check the box next to the eBook you just added.
Click "Sync." The book will then be moved onto your iPad/iPhone where you can view it in all its glory.
Kindle Instructions
Instructions for Kindle 1, 2 & DX