The first North Beach walking tour on January 8th was a great success. I had a lot of fun, and the feedback was extremely positive.
So we're doing it again this Saturday, January 15th, at 2pm. You can buy tickets via PayPal below.
We had a healthy mix of folks last Saturday, from out-of-towners, to recent transplants, to SF natives. I enjoyed sharing my knowledge of San Francisco's culinary capital, both current and historical.
Plus, folks really enjoyed the pizza!
If you want to discover the hidden North Beach, join me this Saturday. The tour is limited to 15 walkers. RSVP early: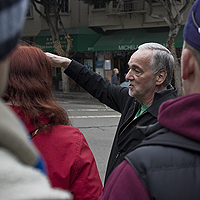 Saturday, Jan. 15th walking tour of North Beach, 2pm
Gianni walks you through the heart of North Beach, and feeds you some authentic Italian-style pizza.
Purchases are processed through "Hungry Village," our parent company. This is what PayPal will display.
Price: $12.95