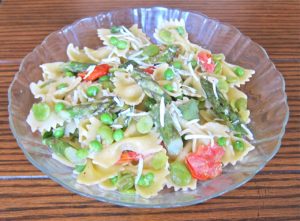 The farmers markets are overflowing with early spring vegetables so I just had to make Pasta Primavera, farfalle (bowtie) pasta with just-arrived asparagus, fava beans and sweet peas.
Pasta Primavera is a classic Italian-American dish concocted by Sirio Maccioni and made famous at his Le Cirque restaurant in New York City in the 70s.
I adapted the classic recipe to lighten up the cheesy sauce. Sirio used spaghetti but today I chose farfalle to ensure that every forkful has some pasta and vegetables for a full flavor explosion in every bite.
This is a glorious bowl of springtime. The sweet fresh vegetables are bathed in the light cream sauce and their fresh taste shines through. The farfalle absorb the sauce full of spring vegetable flavor. The ricotta salata grated on top ties the dish together and kicks it up a notch.
I had an ulterior motive for cooking up the dish today. I'm making Pasta Primavera at a demonstration and tasting for 50 San Jose fans later this week. I wanted to make sure I still had it right this season.
Here's the Farfalle with Spring Vegetables recipe just in case you get inspired at the market. Use my spring veggie trio or use whatever spring vegetables turn you on. Just don't use more than 3 vegetables or the flavors will get muddled.
You can make the primavera sauce in the time that it takes to cook the pasta. Buon appetito.
[amd-recipeseo-recipe:89]