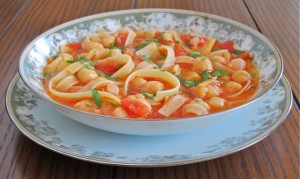 I'll be in Rome and Naples soon so I've been cooking dishes from both cities to get ready for the trip.
Here's another Roman favorite that would be at home in Naples as well. The Romans prefer long pasta in their chickpea soup and the Neapolitans prefer short pasta.
My Mom made it with ditali, a short pasta tube. I made this one with broken taglierini, a long flat pasta.
Smashed potato thickens the garlic and rosemary infused tomato broth. The chickpeas add meaty texture to the silky pasta. This soup is really satisfying and it's good for you too.
Sometimes pasta e ceci will be lunch with a hunk of rustic bread and maybe a small salad.
While I'm in Rome, my friend Luca and his crew will shoot my shopping trips to Campo di Fiori and other neighborhood markets and me cooking in my apartment kitchen near the Spanish Steps. It should be an adventure. I'm a little nervous.
To get you in the mood for the shoots from Italia, we'll soon post 2 episodes we shot a couple of weeks ago at Cookhouse here in North Beach, a Roman treat and a meal in a pouch from the Bay of Naples.
Buon appetito!

Pasta & Chickpea Soup (Pasta e Ceci)
Pasta e ceci is a simple Italian peasant chickpea soup full of flavor and texture.
Ingredients
2 cups chickpeas (garbanzo beans)
6 cloves garlic, smashed
¼ cup extra virgin olive oil
1 large sprig of fresh rosemary
1 14-ounce can imported San Marzano tomatoes, smashed by hand
6 cups water
2 small potatoes, peeled and quartered
¼ teaspoon red pepper flakes or 1 small dried chili
sea salt and freshly ground black pepper to taste
½ pound taglierini or other long, flat pasta broken into 3-inch pieces.
1 tablespoon fresh Italian parsley, minced
grated pecorino (optional)
Instructions
If your using dried chickpeas, soak them overnight. Cook them in rapidly simmering water until tender, at least an hour. Save the cooking water. Canned garbanzo beans work well too.
Put a large pot of well-salted water (5 quarts water, 2 tablespoons sea salt) over high and bring to a boil for the pasta. (If you don't want to clean another pot, you can cook the pasta right in the soup.)
Put a soup pot over medium heat and add the olive oil, garlic and rosemary.
Saute until the garlic starts to brown.
Remove the garlic and rosemary.
Pour the tomatoes and their juice, the chickpeas and the potatoes into the pot.
Add the water to the pot. (If you cooked dry beans, use the cooking water.)
Raise the heat to medium-high and cook until the potatoes are knife tender, about 10 minutes.
Remove the potatoes to a plate and roughly smash them with a fork. You want some intact small pieces too. Return the potatoes to the pot.
Add sea salt and freshly ground black pepper to taste.
Simmer for 30 minutes.
If the soup is too thick, add some of water and bring the soup back to a simmer.
Cook the pasta in the boiling water until very al dente.
Drain the pasta.
Add the pasta to the soup pot and cook for about 2 minutes, stirring occasionally.
Serve the soup in individual bowls immediately with a sprinkle of parsley and a drizzle of extra virgin olive oil. (In Naples, they would add a sprinkle of grated pecorino too.)
This may be my last dish from Rome. After Rome we're moving to an apartment in Naples and then on to the Amalfi coast and the beach near Gaeta. I have to move south to the food of Campania. So, the recipes I post this weekend will be 2 of my favorite dishes from Naples.