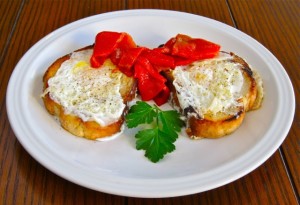 In anticipation of tomorrow night's Academy Awards I cooked up some Oscar-worthy eggs this morning.
Ever see Norman Jewison's 1987 movie about a Brooklyn Italian-American family? "Moonstruck" won Oscars for Olympia Dukakis and Cher.
There's a kitchen scene where Dukakis is making these eggs for herself and Cher.
"Moonstruck" eggs were a popular item on my restaurant's brunch menu. There's no better combination than peppers and eggs. We served them with roasted pork and fennel sausage.
In Italy this dish is known as "birds in a nest". They are super simple and they make a big impression for that special Saturday or Sunday morning. Add your favorite potatoes and breakfast meat and that's it.
Here's the "Moonstruck" kitchen scene that is the basis of my recipe.
Buon appetito!

Moonstruck Eggs
A simple but fancy egg dish inspired by Olympia Dukakas cooking breakfast for Cher in the 1987 movie "Moonstruck".
Ingredients
1 egg
1 roasted red pepper
1 slice rustic bread
2 tablespoons extra virgin olive oil
sea salt and freshly ground pepper to taste
Instructions
Punch out a whole in the middle of the bread slice big enough to hold the egg.
Put a skillet over medium high heat and add just enough of the EVOO to coat the bottom of the pan well.
Place the bread slice in the pan. Toast briefly on both sides.
Cut the roasted pepper into small strips and heat them in the skillet.
Crack an egg in the whole in the bread.
Let the egg cook until the white sets up well, about 2 minutes.
Carefully flip the egg over to cook the yolk side to your taste.
(If you're scared of flipping the egg, just put a cover over it and let it set to your desired doneness.)
Top the egg with the roasted pepper and salt and black pepper to taste.
Serve immediately by itself or with your favorite breakfast potatoes and breakfast meat.
(If your making more than 1 Moonstruck egg, cook as many as fit comfortably in your pan. I can eat 2 of these for my breakfast or brunch.)