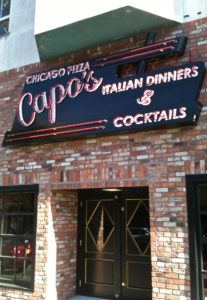 I'm back in the Village after a week out of town and was pleased to see the Capos sign was up. Capos is Tony Gemignani's new place on Vallejo (between Stockton and Columbus). As Tony promised the vintage National cash register sits proudly on top of the Deco bar. There's a strange looking machine in the front window. I don't know what it is but it looks cool. Word on the street is that you'll be able to get Capos' Chicago deep dish pizza and Italian dinners soon.
Tuesday the "oldest Italian restaurant in America" Fior d'Italia closed after 126 years in North Beach. It opened in 1886 as a bordello dining spot and fed survivors of the '06 quake and fire.
Fires forced the restaurant to bounce all around North Beach. It was at the spot that now houses Original Joe's (Union/Stockton) for 50 years. After a 2005 fire it ended up at the San Remo Hotel down on Mason near Fisherman's Wharf where the owners threw in the towel.
In 2010 Fior d'Italia celebrated it's 125th anniversary by bringing back 1886 prices for a day. Linguine and meatball was 10 cents and minestrone soup and dessert were included!
Chef owner Gianni Audieri hopes to re-open in yet another location. I wish him luck. I hope we don't lose the San Francisco Italian institution for good.
Here's Grub Street's story with pictures from the closing night. Inside Scoop's post includes more pictures of the restaurants beautiful interior.