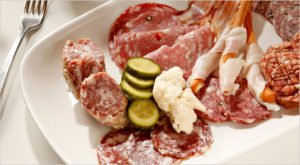 In today's New York Times Mark Bittman says San Francisco is the world's best city for regional Italian food.
It's not novel to say that so-called Californian cuisine is essentially Italian (perhaps "Italian-dominated Mediterranean" would be more accurate). But no comparably sized city has more authentic and better regional Italian food — of all the cities in Italy only Rome has the audacity to support restaurants whose food originated in other regions — and, really, with the possible exception of New York, it may be said that San Francisco is the world's best city for regional Italian food.
We knew that!
Bittman remembers espresso at Caffe Trieste in our North Beach but picks 4 restaurants in other neighborhoods as the best of regional Italian fare: the Piemonte at Perbacco; Neapolitan at Delfina; Ligurian at Farina; and Sardinian at La Ciccia.
I'm a North Beach guy but I can attest to the wonders at Perbacco, one of my favs. I was there Monday for dinner with friends. As is usual at my restaurant table we ate family-style. Order several dishes in each course for all at the table to share. You'll get to taste more dishes and create a deeper common dining experience for those at the table.
Too bad Mark didn't try some of North Beach's best authentic regional Italian fare. He would have discovered great restaurants cooking authentic regional food from Tuscany, the Veneto, Lazio, Sicily and Campania. Join me for one of my February North Beach tours and I'll introduce you to all of them. Reserve your spot early. (Today's tour is once again sold out!)
Stay tuned – we'll be posting an invitation to join me at my first private dinner party at one of my favorite North Beach restaurants. We'll share a family-style 4 course authentic regional meal with wine. Plus we'll get the skinny from the chef about what we're eating and why the wines are a perfect match for each course. Great food and a chance to deepen your appreciation for the regional food of Italia right here in North Beach. I can't wait!