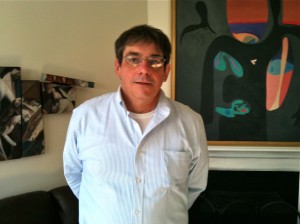 I was making the tomato sauce base for Cioppino early Friday morning when Rick Kleffel arrived to tape an interview for his KUSP Santa Cruz NPR radio show and podcast.
"Smells wonderful in here," Rick said as he entered.
Rick makes many of my dishes so we spent time in the kitchen talking about the Cioppino recipe and the relative merits of San Marzano DOP tomatoes. I told Rick that when I find a good DOP producer often I will stock up on their non-DOP tomatoes. The DOP growing zone may end at a road near Salerno but more tomatoes are grown across the road just outside the zone. Trust the producer, those tomatoes are just as good and cost about half the price.
I'll let you know when the interview airs on KUSP and when the podcast is available on Rick's website.