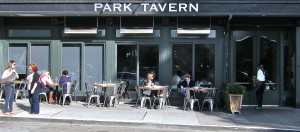 I've been telling you about Park Tavern on North Beach's Washington Square for a while. It is one of the nominees for Best New Restaurant Award. The semi-finalists were just announced by the James Beard Foundation.
The James Beard Awards are the food industry's Oscars. There are many other San Francisco restaurants and chefs on the list too but I'm most proud of our North Beach semi-finalist Park Tavern.
Park Tavern opened last summer in the Moose's space on Stockton facing Washington Square Park. I enjoyed a wonderful dinner there during the holiday season with seven of my office-mates. The menu is diverse and can satisfy the tastes of anyone in your party even those with food sensitivities. The staff is knowledgeable about everything on the menu and can cheerfully guide you to a memorable dining experience for everyone at your table.
The Chronicle's food critic Michael Bauer only gave it 3 stars when he reviewed Park Tavern last October. I guess the James Beard crowd thinks it's better than that. Let's see if Bauer goes back again and gives Park Tavern that 4th star.
The James Beard Awards will be announced in May. I keep you posted.
In the meantime if you're not in the mood to eat at one of North Beach's Italian restaurants make a beeline to Park Tavern before you can't get in anymore.