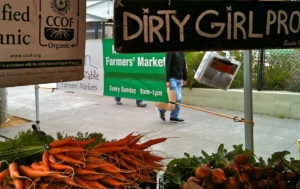 Another great weekend in the Village. The SF Mime Troupe was in Washington Square Park Saturday afternoon along with an interesting art show in the park. Lots of visitors too. I had a hard time making my way down Columbus but the boys at Molinari say they can sense that the tourist season is coming to an end. Luckily the farm bounty continues unabated.
Sunday was a chilly, foggy morning and the Village was still abuzz.  North Beach denizens flocked to the Farmer's Market near the library (Columbus/Mason). Each Sunday a dozen farmers bring in their organic harvest and are joined by others selling bread and baked goods, olives and olive oil, nuts, salmon and other goodies  –even a couple of food trucks make it out.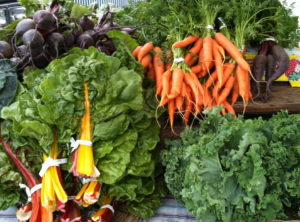 We strolled the stalls accompanied by the sweet strains of a cello playing at the end of the short street. The fruits, vegetables and flowers were picture-perfect. I couldn't resist the zucchini flowers that I stuff with mozzarella and anchovy and fry in a light batter. The chard was colorful. I'll saute it in olive oil infused with garlic to accompany veal rollatini stuffed with mozzarella, prosciutto and basil. Friends report San Marzano tomatoes in some markets but I haven't seen them yet. The farmers tell me the San Marzanos won't be in for a couple of more weeks. Let me know if you score any–I'm anxious!
Support the North Beach Farmer's Market every Sunday morning. It's a great Village asset that we don't want to lose!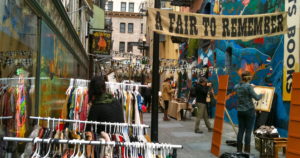 Kerouac Alley (between City Lights Books and Vesuvio off Columbus near Broadway) was busy Sunday as they set up A Fair to Remember— clothes, antiques, paintings, crafts, photographs (including color '60s pix from the first North Beach strip club).
Kerouac Alley is a great Village venue during the entire year. You never know what will pop up there–a jazz quartet one time, R&B the next, and local artists exhibiting their works.
Keep an eye out on SFGate for what's happening next on Kerouac Alley.
As a head's up, I know artists will be in the Alley over the Columbus Day weekend. The North Beach festivities on Sunday October 9 include the Italian-Heritage parade–the oldest in the country. Can't wait!