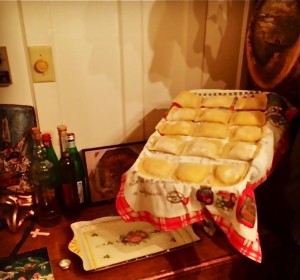 "Make homemade ricotta ravioli for Saturday's dinner," my Seattle friend told me before she boarded her plane. And so started a day of shopping and eating in North Beach with friends.
Those are my shadows on the dining room wall. I'm holding a tray of ricotta & mozzarella ravioli while tallying how many ravioli each of the 7 friends at my table would eat.
These are big ravioli. Most chose 2 or 3.
Early Saturday morning we headed down the hill to North Beach to buy what we needed for dinner. Santo let us use Cavalli Cafe on Stockton Street as our staging area.
As we sipped our coffees Santo packed up cannoli ingredients for us to assemble after dinner. We didn't want the shells to get soggy if they were filled too soon before we devoured them.
We left the fruits and vegetables from Union Produce with Santo and headed to Molinari deli for the antipasti fixings. We dropped the bags back at Cavalli and crossed the street to Little City Meat Market for 3 types of sausage to roast and serve with the ravioli.
Italian wines from Coit Liquors and Acme bread from Little Vine and we were ready to head back to my place. My friends insisted that we had too many bags to carry up the hill. We hailed a cab. How civilized, a ride right to my front door.
Back in my kitchen, we got the San Marzano basil sauce going and left it to simmer. Then 3 of us made the pasta dough and ran it through my hand-cranked pasta machine until we had long, wide pasta sheets.
As the sheets dried we whipped up the simple creamy ricotta and mozzarella filling. My friends jumped in and made one sheet of ravioli under my careful supervision. We ended up with 27 large ravioli.
Watch my fresh ravioli with San Marzano sauce video episode and make some yourself. You won't be sorry.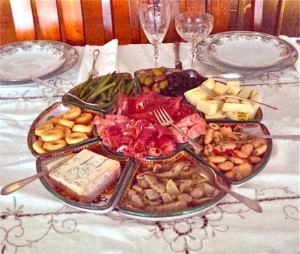 Here's the antipasti platter that started off our meal. It's a good example of what you can put together for your next holiday party.
Starting with the top middle dish:
Marinated mixed olives and black oil-cured olives; sharp provolone & a young pecorino with pistachios; marinated giant Corona beans; homemade pickled eggplant; gorgonzola dolce; taralli; steamed green beans with lemon & olive oil. In the center dish: prosciutto di San Daniele, mortadella and coppa picante.
Use my pickled eggplant recipe to make some to have handy in your fridge.
My green bean salad recipe is quick and easy. Add something fresh and delicious to your antipasti platter too.
Remember those cannoli fixings Santo packed up for us?
Three and a half hours after the meal started and 6 bottles of wine later, I just passed the shells, filling, chocolate chips and orange peel syrup around the table for each my guests to make their own cannolo. They didn't mind doing it themselves. Santo's cannoli are fantastic and the crispy shells shattered with each creamy bite.
Champagne grapes and roasted chestnuts ended our meal. A wonderful evening with friends at my table.
Treasure your times together around the table this holiday season.
Buon appetito!