Still got some energy after Bay to Breakers? Meet up with me today at Cavalli's on Stockton from 2-3 pm. Never know what you'll discover in The Village.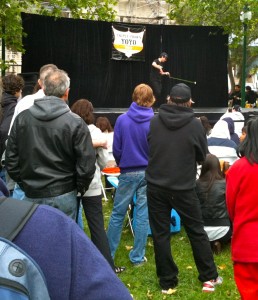 For instance, it was quite a North Beach morning yesterday.
Hundreds surrounded the stage at the annual Yo- Yo competition in Washington Square. Almost everyone had some kind of yo-yo and mingling was kinda dangerous!
Spring has sprung at Union Produce. California stone-fruit has arrived. Apricots, peaches, cherries and they're not bad for this early in the season. Baby artichokes, sweet peas, fava beans are there too. Yipee!
I almost fell over passing gallery454 on Columbus. Is it loaded? No, thank God, it's made of wood.