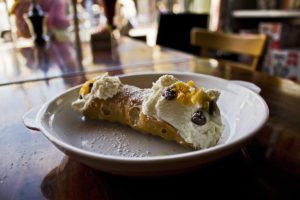 So says Carl Nolte in today's Chronicle.
"People will tell you that South of Market is the new center of San Francisco. But North Beach has all the contradictions that made San Francisco what it is. And for my money the heart of the town is North Beach."
Molinari's Deli, early morning tai chi in Washington Square, lunch at Original Joe's where a mistress may be at the next table, Liguria Bakery's fantastic focaccia, Carl surveys it all in his ode to North Beach.
You know how much I love North Beach. Come along with me as I scour what's left of North Beach's Italian-American neighborhood to get all the fixings for a 4-course meal with friends last weekend. Homemade ricotta and mozzarella ravioli in a San Marzano tomato-basil sauce were the star of that 4-hour meal. Santo's incredible cannoli weren't too bad either.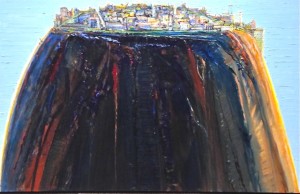 Only one week left to see the incredible Memory Mountains, the Wayne Thiebaud exhibit at the Paul Thiebaud Gallery on Chestnut Street at the fringe of North Beach.
You may know Wayne Thiebaud from his luscious cake paintings or the gum ball machine. I love his landscapes as well.
At 94 Wayne remains a prolific artist. The exhibit features his recent work and older food and landscape paintings that give the exhibit context over time.
Don't miss this extraordinary collection of art. See which new ridge painting resembles a cake good enough to eat and another like a swirl of chocolate gelato ready to be scooped up.
What's not to love in North Beach?
I know, the messy and disruptive subway to nowhere dig, loss of old Italian businesses. Don't get me started. I'm in a wonderful mood this morning.