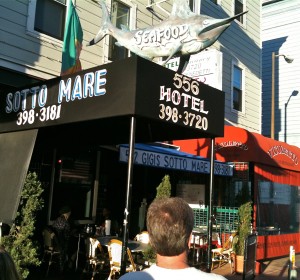 Quite a week for the Village. Two great Chronicle restaurant reviews and USA Today named a North Beach pizzeria the best in the country. North Beach is on fire!
Gigi's Sotto Mare on Green is one of the last remaining traditional Italian-American restaurants. Gigi's first restaurant was in North Beach decades ago and he wanted his last to be in the Village too.
He returned to the neighborhood several years ago to beautifully restore the building that houses his Sotto Mare, the wonderful Calabrian restaurant Vicoletto and a hotel on the upper floors. Sotto Mare is a cool retro space with lots of silly tchotchkes. Gigi's remodel really captures the spirit of North Beach as it was a couple of decades ago.
Fish, of course, is the star of Sotto Mare (Under the Sea). Check out the white board as you enter. Gigi lists the day's really fresh catch that he's cooking that night. If the catch doesn't float your boat there's always the cioppino, one of the best in the City. Here's Michael Bauer's review.
(Gigi's your "hidden" Village fishmonger. You can buy any of the day's catch to cook at home.)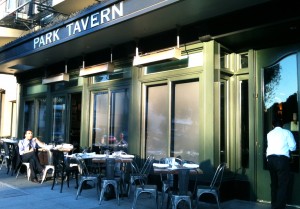 It's been a rough road since the original Moose's closed. No one was able to gain traction in this fabulous location. The space had recently been dark for quite a while. I was worried. They said it couldn't be done — a successful successor to the iconic Moose's on Washington Square.
Well Park Tavern did it. It's been packed since it opened about six weeks ago. Michael Bauer gave Anna Weinberg & Jennifer Puccio 3-stars in the Sunday Chronicle! Bravo Park Tavern! Welcome to North Beach Anna, Jennifer and your fabulous staff. And thanks for anchoring this side of the Square. The block is back!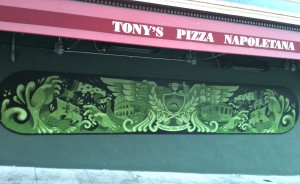 I couldn't wait when I heard Tony Gemingnani was coming to the Village. I heard about his pizzeria in the East Bay and the pizza competitions he won in Napoli. After a substantial renovation of the old La Felce space Tony's Pizza Napoletana opened the doors and the crowds poured in. When I finally could get a seat a few weeks later I wasn't disappointed.
A pizzeria, the Slice House and a pizza school all under one roof!  Tony's Pizza on Washington Square is a wonderful North Beach asset.
Tony's makes Roman pizza bianca in an electric oven; East Coast pizza in a coal-fired oven; pizza Margherita in a wood-burning beehive oven and so much more. Best pizzeria in the country proclaimed USA Today. Bravo Tony. Thanks for bringing your talents to the Village.
Don't miss the Jeremy Fish installation on the Union Street wall, a stop on my North Beach tour. The symbolism in this piece is overwhelming. See the hands as waves on the ends? They represent the hands of the pizzaiuolo (pizza maker).
(If you aren't in the mood for pizza try Tony's fantastic Chicago Beef sandwich at The Slice House. Make sure you tell them to "dip it"!)