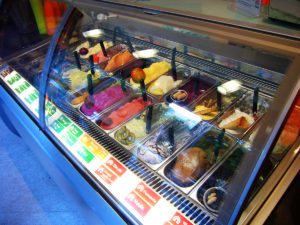 Gelato is one of those quintessential Italian desserts. With less butterfat and more sugar than American ice cream, it has a smoother texture that allows the quality of the ingredients to shine through. In the heart of North Beach, you might expect gelaterias to line the streets. You'd be right (there are dozens with more popping up every week), but not all gelati are created equal.
Taking a stroll through North Beach on a sunny day, you can hit the community's top gelaterias all within a few blocks. Start at Union Street and make your way south on Columbus. You'll spot Alimento, an upscale convenience store featuring a hodgepodge of delicious goodies. The blood orange gelato comes highly recommended. And if you're so inclined, you can compare this Italian treat with its American counterparts, because Alimento also sells ice cream and frozen yogurt.
Don't fill up, because right next door is Mara's, a well-known Italian bakery. Get the classic nocciola gelato (hazelnut) and grab a table outside to enjoy the unique North Beach atmosphere. Don't forget to buy a pastry or two (or some cookies by the pound) before you leave.
Cross Columbus and you'll find what many say is the city's number one gelateria. Gelateria Naia boasts rave reviews and great customer service. They feature old favorites like Gianduia and Stracciatella but also add a flare of creativity in new flavors like Earl Grey, Cannoli, or Tiramisu. You don't have to decide on a flavor right away; the staff is very willing to keep the samples coming!
Head north on Stockton toward the famed Washington Square Park. To the right, on Union, is Gelato Classico, one of the most authentic gelato shops in North Beach. It has been a staple in the community for over 20 years. The storefront doesn't contain much more than a counter and a bench outside. It's the simple philosophy of this place that makes its gelato famous. Try the Coppa Mista (meaning "mixed cup") – chocolate, vanilla, almond, and pistachio gelati all in one cup.
Bring cash (a few are cash only) and prepare your walking shoes, because North Beach has a rich array of gelati to offer. Hopefully, you get flashbacks of your last trip to Italy.
Image by chad_k.