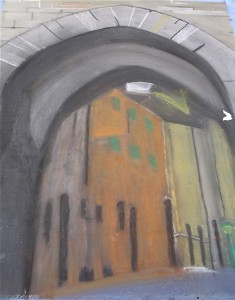 The 58th Annual North Beach Festival is next weekend, June 16-17. Don't miss this opportunity to revel in all that North Beach has to offer. The weather will be superb.
Stroll Grant Avenue, the oldest street in San Francisco. Enjoy music, ranging from The Carol Doda Band to the Happy Strings' Italian madolin and guitar classics. Picnic in Washington Square Park. Eat and drink to your heart's content. Absorb all the art on the street and in the local galleries too.
The North Beach Festival fears over 125 arts and crafts booths, 20 gourmet food booths, three stages of live entertainments scattered around the Village, beverage gardens, children's activities, the blessing of the animals at The National Shrine of Saint Francis of Assisi, and my personal favorite, Italian street painting.
While wandering the Village, discover the unique array of North Beach cafes, art galleries, boutiques, restaurants, pizzerias, delis and bars.
Here are all the Festival details. Can't wait. See you there.